Dave Foy and Chris Moore present
The Tech Course Creator's Fast Track
A 6-week group coaching program that will give you the intensive support and action plan you need to get unstuck and become a profitable tech-course creator.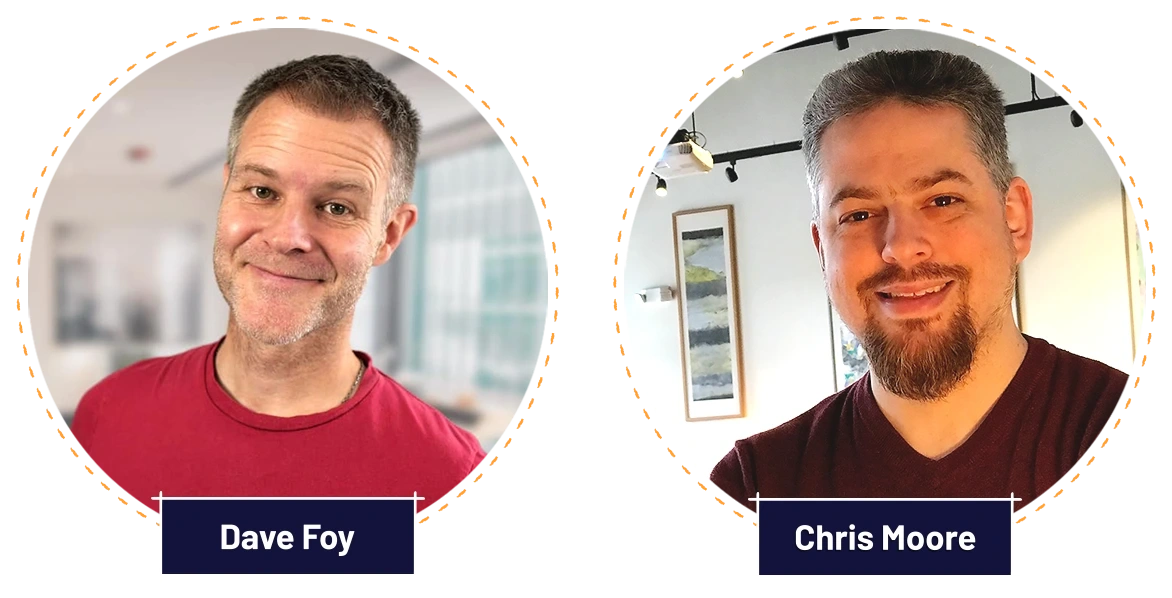 The Doors Close This Friday Night!
Don't miss this opportunity to become a profitable tech-course creator in 2022.
2022: The year you finally get unstuck and become the profitable, difference-making online educator you're supposed to be. 📈
Life is short.
And there's nothing worse than having a burning desire to do something you know will make a big difference to your own life, and the lives of others….
…only to not have a clue where to start, let alone what to do next!
If you're anything like us, you get a real buzz from helping other people succeed.
😍
You love any opportunity to share your knowledge and expertise—just like other people before you have shared their knowledge and expertise to help you get to where you are today.
But as a freelancer or agency owner, you've likely only really been using your digital skills and expertise to help grow your clients' businesses.
You've honed your craft. You've sharpened your virtual tools.
And, most of the time, you enjoy your particular area of tech expertise—be that web design, web development, SEO, online marketing, digital marketing, ecommerce, programming, etc…
Basically, you do a lot of your work on screen and digitally. "Not a real job", as my long-since departed Grandad would have said. 😉
But there's one nagging problem:
Client work has started to feel like a bit of a grind. 😓
You're working from project-to-project, starting to feel a little trapped on the time-for-money hamster wheel.
You don't have the level of control over your own schedule that you'd like.
And what's more, the freelance business you created to carve out some freedom is feeling anything BUT free at the moment!
Now…
We know you may not necessarily want to give up working with clients altogether… and that's totally cool.
But you DO have a bigger vision.
In fact, this idea has been buzzing around your head for ages!
You dream of making a more meaningful and scalable impact by teaching your area of digital expertise online. 💭
In fact, you KNOW that adding profitable online courses to your business model will allow you to:
Leverage your existing skills, expertise, and time...
Scale your impact and income...
Get your freedom back, and...
Experience the life-changing joy of helping transform the lives of people around the world.
But right now, you're kinda spinning your wheels…
And you're not reaching anywhere NEAR the potential you're capable of.
James Clear (author of Atomic Habits) has a great quote:
"You do not rise to the level of your goals. You fall to the level of your systems."
Meaning:
It's all well and good setting ambitious goals for the income and lifestyle of a profitable online course creator that you desire….
But how long it takes you to reach those goals is entirely restricted by your SYSTEM for getting there.
Time and time again, we see the following two-fold whammy, stopping would-be successful tech-course creators in their tracks:
1. At the 50,000 feet level
The lack of an overall understanding of the "big picture" system that'll take you from zero (followers, subscribers, and sales) to consistent profitability and raving fans.
And also…
2. On the ground
The lack of a simple, workable, day-to-day plan—the small consistent regular actions required to get you to your goals.
And this—we're guessing—is what's led to your current situation:
👎 There are a whole host of mindset issues, confusions, and misconceptions getting in the way of you being able to think clearly.
👎 You're overwhelmed and paralyzed by indecision and procrastination, with no clue what to do next.
👎 You may have an idea for broadly what you want to teach, but can't zero in on an audience to teach it to (let alone how to find them!).
👎 You might already have started making some free YouTube videos, and even have followers who leave you gushing comments! But you've zero plan for how to leverage that audience to make consistently profitable sales.
👎 Or, you might have made a course already, but it's either not sold very well, or it sold great at first… and now… tumbleweed.
Introducing…
The Tech Course Creator's Fast Track
We're compressing into 6 weeks our combined 15 years' experience making and selling profitable online courses, to give you the clarity, shortcuts, systematic action plan, and intensive support you need.
The program starts on Monday, January 10th.
The Tech Course Creator's Fast Track is a 6-week group coaching program that will give you:
Clarity about the 'big picture' system required to help you become a successful course creator - so you not only know where all this is heading but WHY.
A simple day-to-day execution plan, so you know exactly what you should be working on over the coming weeks, months and years to make consistently rapid progress - avoiding overwhelm, confusion and procrastination.
A clear plan for building and nurturing the right audience, defining who you should be teaching, so you can find, attract, and nurture a targeted audience of buyers and raving fans.
The blueprint for making compelling and transformational training and courses that your students will love - even if you're not confident on camera, frequently make mistakes, and don't even know what equipment you need.
The steps for how to 'co-create' your course in conjunction with your audience, validate your course idea AND make money before you make a single video - giving you 100% confidence you won't have wasted a single minute making something no-one will buy.
And along the way, we'll help you identify and solve your biggest challenge on this journey (by far): yourself.
We'll help you smash through the common mindset issues and myths - like fear and imposter syndrome - that are currently killing your progress.
A roadmap to consistently profitable course-creation revenue
After this 6-week group coaching program and the intensive support you'll receive, you'll finally enjoy the confidence that you're on the right track, with an action plan that'll reap rewards, not only in the short term, but for many years to come.
You'll learn the simple action steps to:
Find and build the right audience…
Create engaging online course content…
Pre-sell your course to make much-needed revenue, AND…
Confidently validate that your course idea is 100% a go-er!
The results you can expect from this program depend on where you are right now.
If you're just starting out…
Expect a clear action plan to gain your first 1000 email subscribers, 'presell' your first course, and make $2k-$10k+ in course sales revenue (as well as a roadmap for what to do after that).
Or, if you've already made and sold a course but progress has stalled…
This is the perfect chance to 'reset' afresh following a new system, to allow you to make expedited progress and consistent sales in future.
Ultimately, you'll leave with the blueprint for how to operate as a confident online teacher, knowing the exact action plan to create and sell profitable tech-focused courses.
The program starts on Monday, January 10th.
Here's what you'll receive when you enroll in the Tech Course Creator's Fast Track
6-Week Group Coaching Program.
Weekly structured 'fast track' training, guidance and intensive support from coaches Dave Foy and Chris Moore, who have a combined 15 years' experience of making and selling highly profitable online courses.
Private Dedicated Support Community in Circle.
Here's where you'll access the training, enjoy individual support from the coaches, and collaborate with and encourage your fellow budding course creators! We're using Circle, a fantastic dedicated community platform with no distractions (unlike Facebook).
One short pre-recorded video each week - introducing that week's theme, and setting various follow-on tasks.
One weekly live Q&A session - with recorded replay posted right afterwards.
Private, dedicated support community - constant support and encouragement from Dave and Chris in the group, and the chance to collaborate with your fellow budding course creators.
Various worksheets, hand-outs and resources.
Lifetime access to ALL recordings.
Who's behind all this?
We're Dave Foy and Chris Moore, and we're compressing our combined 15 years' experience making and selling online courses into this 6-week program.
DAVE FOY
Dave is actually a qualified teacher. For 10 years, he taught 5-11 year olds in the UK, so he knows a thing or two about breaking down tough-to-grasp concepts in ways that literally anyone can understand.
After an almost 20-year career building websites for clients, in 2016 he went all-in on combining his love of teaching with his love of working in tech, building a multiple six-figure business teaching tech online, with thousands of happy students.
Realising his biggest joy was seeing first hand how teaching has the ability to dramatically transform other people's lives, Dave decided to help other tech experts like him experience the same transformational joy of teaching by starting Teach The Tech with his friend and mentor, Chris Moore.
CHRIS MOORE
Chris has been an entrepreneur for most of his life. As a kid he had the proverbial "lawn mowing" business, from there he founded a language tutoring company, until falling in love with all things tech, web design, and digital marketing.
After helping a now-popular software company go from $0 to $11 million dollars in 18 months, Chris took the leap out on his own as a digital marketing consultant and funnel builder. That's when he first met Dave.
After years in the trenches building websites, funnels, automations, and marketing campaigns, as well as coaching his clients to 6- and 7-figure annual revenues, Chris jumped at the chance to partner up with Dave and co-found Teach The Tech.
Is this program right for you? 🤔
You may be wondering if the 6-week Tech Course Creator's Fast Track group coaching program is right for you.
Three prerequisites:
1. You LOVE helping other people.
You'd help other people, for free, all day long, if you didn't have to eat and pay the bills… oh, and also money is pretty great. 😉

If you don't get a real buzz from helping other people succeed… we can't help you.
2. You're prepared to put in some hard work and be coachable.
This isn't a pre-recorded course you can take at your leisure. This is a weekly, "live", as-it-happens experience.

You'll only get results by participating and putting in the work, even if all you have is a couple hours a week while the program is running.
3. You're interested in teaching a tech/digital focused topic.
Meaning, a topic where at least some (doesn't have to be all) of the action happens on a screen: like web design, web dev, programming, ecommerce, digital marketing, etc.
These are just some examples to give you an idea of what we mean - basically: NOT yoga, playing guitar, or flower arranging.
And you're at one of these 3 stages:
This is for you if you're "course curious".
You may not have even started the course creation journey yet—that's cool. 😎
But you should have a 'broad' idea of what you want to teach, even if you've not honed it down to be something focused and compelling yet.
And this is for you if you're already a "course builder".
You may well already have made (and sold) a course. 🥳
But your course has either sold very little at all so far…
OR your initial launch went great… but now sales have dried up, and you need to fix that ASAP.

This is also for you if you're an "audience builder".
You may have been making free YouTube videos or creating other free educational content online, even for a while.
But while your subscriber/follower numbers may (or may not) be growing, you have no real plan for how to consistently leverage that audience for sales, or attract new leads quickly.
And who is this program NOT for?
This program won't benefit you if:
❌ You have no idea of even a 'broad' area you'd like to teach.
❌ You know you'll have zero time to devote to this during Jan/Feb 2022 (even a couple of hours a week).
❌ You don't have any real drive to help others succeed through teaching.
❌ You want a get-rich-quick scheme.
Here's what we'll cover in the Tech Course Creator's Fast Track program
This isn't a traditional course which is all pre-recorded upfront. Like any good coach, we'll stay agile and adapt the training to precisely meet YOUR needs, that we'll learn about as we go.
And peppered throughout, we'll tackle the related mindset issues and myths associated with each area of the course creator's journey.
Here's our proposed outline of the program, which is subject to regular iteration and change, both before and during the sessions.
You'll learn the 'big picture' process for building a profitable online course business.
If you're already feeling overwhelmed, chances are it's because you don't have a clear concept in your mind of the simple steps you have to take.
We'll give you your first 'big win', by revealing the broad strategic roadmap and action steps ahead of you.
We'll give you clarity on where you're heading and (more importantly) WHY.
We'll also cover exactly the gear and software you're going to need.
You'll discover how to hone in on who to teach and what to teach them.
The main mistake that budding course creators make is not having a crystal clear idea of exactly who their audience is and how they can help them.
You'll get clear on why you need to build an audience and what role they'll play in your journey (hint: they're not just there to give you money).
Making generic 'how to' training is not enough to build a loyal audience, let alone make consistent profitable sales. So you'll learn how to zero in on a specific niche market - a group of people who have a problem you know you can solve.
BUILD AND NURTURE YOUR AUDIENCE
You'll learn how to attract your ideal audience and nurture them to becoming paying customers.
You'll discover what minimum viable audience you'll need to make a success of your first course sale (you'll be surprised how small that number can be!).
You'll learn how vital it is for your success to bake 'growing your email list' into every single thing you do.
We'll teach you a variety of simple techniques for attracting your ideal audience and encouraging as many as possible of them to become subscribers.
And we'll give you an easy-to-follow roadmap for how to interact with your subscribers and build a relationship with them, on a week-by-week basis - crucial for successful future course sales.
MAKE EFFECTIVE TRAINING CONTENT
You'll learn how to make engaging, effective tutorials that your audience will love.
It goes without saying - creating engaging teaching content that your audience enjoys watching and that helps them learn is absolutely vital to your success as an online course creator.
You'll discover that there's a big difference between 'knowing your stuff' and being able to teach it effectively, in a way that your audience actually learns and gets results.
We'll teach you the key principles of effective online tech-teaching, as well as all the pitfalls to avoid, along with fill-in-the-blank templates to use every time you plan any online learning content.
CO-CREATE AND OUTLINE YOUR FIRST PROGRAM
You'll learn to create an outline of your first course that you can be sure your audience will love.
The vast majority of online course creators first make a course and then look for an audience to convince to buy it. This is a total waste of time, and a trap you're definitely not going to fall into.
You'll discover the benefits of 'co-creating' your first course in conjunction with your new and growing audience - without making a single lesson (yet).
You'll learn how to create an effective online course curriculum - one that'll be as quick and easy as possible for you to make, and will get maximum results for your students.
You'll discover how to plan and run your first course pre-sale.
This is where the magic happens - your first revenue AND validation (without any doubt) that the course you have in mind is worth spending time making.
You'll learn why asking your audience to buy an as-yet non-existent course is an essential and non-negotiable aspect of your strategy as a successful online course creator.
We'll help you get over the mindset hurdle of asking for money for something that doesn't exist yet (hint: it happens ALL the time).
By the end of this week, you'll have all you need to run your first presale, make revenue, and have the confidence that there's a willing market for your course.
And what if people don't pre-order? You'll discover how this is a fantastic result in itself, and what action to take from there.
Plus, we'll round off the program by setting a roadmap for your next steps from here.
The program starts on Monday, January 10th.
Are you ready for The Tech Course Creator's Fast Track?
We've designed The Tech Course Creator's Fast Track to give you the direct and personalized support you need to make 2022 the year you become a confident and profitable tech-course creator.
When you enroll in the program and consistently follow the system that we teach you…
✅ You'll no longer dread opening your email for fear of yet another urgent client request. Instead, you'll look forward to opening your inbox to read grateful messages from people around the world who you've helped through your teaching.
✅ You'll no longer feel frustrated at the grind of client work. Instead, you'll wake up every day excited to get to work, knowing that you'll enjoy the deep sense of satisfaction that your teaching is making a massive difference to other people's lives. In fact, work won't feel like work at all!
✅ You'll no longer be paralyzed by fear, indecision, and procrastination. Instead, you'll know exactly what you have to do, every day, to continue to attract new customers and grow your profits.
✅ And your earnings will no longer be limited by the number of hours you work or the number of clients you can take on. Instead, your earning potential will be limitless, as your new business model allows you to serve customers around the world, one-to-many.
A 6-week group coaching program that will give you the intensive support and action plan you need to get unstuck and become a profitable tech-course creator.
The program starts on Monday, January 10th.
Past Praise for Dave & Chris
Kevin Roberts
"By far and away the best training you can get, by the guy who is arguably the best instructor on the internet. This is the third course I've taken by Dave and they're uniformly excellent."
Jason Mofatt
"Chris is an amazingly brilliant man. He just constantly blows me away with his wisdom, with his generosity, and his overall ability to help people. Chris is so incredibly good at what he does. He has been – hands down – crucial for myself when I'm having a tech problem. I always know I can rely on him to get a fantastic answer."
Alisha Thomas
"I've never taken one of Dave's courses before this one, and now I understand why everyone raves about them! The information is well-structured and informative, and Dave is very easy to follow and listen to."
Shane Olson
"Chris really helped me and contributed to the success of my course. He helped me with my sales page, my offers, and the look of everything. During my first launch I pulled in over 6-figures, absolutely incredible! And then my first year I've made multiple six figures since then. He comes very, very highly recommended."
Casey Clair
"Dave is truly an excellent teacher and has a great sense of humor to make the course fun. The course is very well structured, and he does a great job of breaking things down piece by piece, making it very easy to follow along and understand."
Kyle Buchanan
"Chris is fantastic and he's just a great guy, really supportive and encouraging, and you know he succeeds when he helps you succeed, so that is really all you could ask. I know that I'm going to keep using Chris because he's just going to shortcut my journey from zero to to hero where I'm absolutely crushing it."
Ben Pines
(Former Head of Marketing at Elementor)
"Dave is a truly brilliant online educator, and a rare one at that."
Nathan Garcia
"Chris is very straightforward and results-oriented, which is what most of us need. So don't waste any time if you're thinking about it because this guy can help you get from where you are to where you want to be."
Kim Doyal
(THE Kim Doyal)
"The sheer quality of Dave's content, how his courses are organized and delivered, and his natural teaching style have raised the bar for me."
Jessica Jones
"There's no question to me that Chris's knowledge is amazing. He just seems to have this knack for it. The call was amazing. I gained so much knowledge from him. It's invaluable to have someone to go to and just be able to ask a question, somebody who's so knowledgeable about the industry that we're in."
Mark Dreaneen
"I'm absolutely loving Dave's course. In fact, it's probably the best online training course I've ever done."
Linh Trinh
"If Chris hadn't gone through my sales funnel it would have completely flopped… At the moment it's tracking very, very well. It's probably 10x'd from all the things that he pointed out, which is fantastic."
The program starts on Monday, January 10th.
How much time will I need to devote to this?
What kind of support will you provide?
How many other participants will there be?
What time will the weekly live Q&A call be?
How long do I have access to the training materials?
How long do I have access to the community support group?
Will I need any special equipment or software?
How do I know if this program is suitable for me?
Can I pay in installments?
I'm just not sure I'm ready to make this investment…
It's not a good time for me right now. Can I join later?
I'm enrolled! What happens next?
What if I find the program isn't for me? Can I get a refund?
A 6-week group coaching program that will give you the intensive support and action plan you need to get unstuck and become a profitable tech-course creator.
The program starts on Monday, January 10th.